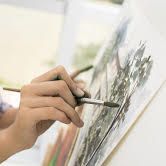 If you are an artist, or just appreciate great art, you will love being so close to the Ann Arbor Art Center. Less than a 30 minute drive from Hidden Lake , located at 117 West Liberty Street in downtown Ann Arbor, the 117 Gallery provides a unique opportunity for the community to engage with local, regional and international artists. This gallery features eight different exhibits throughout the year, all of which are juried and curated.

If there is a budding artist in your family, you may be interested in the day camps the Center provides. These camps feature a full-day program, and are offered during school vacations as well as during the school year. In the Creativity Camp, young artists will experiment with and explore a variety of media, and are exposed to artists and various art movements. The Clay Camp focuses specifically on throwing pottery and alternative forms of art expression through clay.

Ann Arbor is a fun town to visit, with unique shops, boutiques, restaurants and a lively nightlife. Home of the University of Michigan, it boasts an eclectic blend of professionals and students. A great destination any time of year, for the artists in your group, be sure to check out the Ann Arbor Art Center.