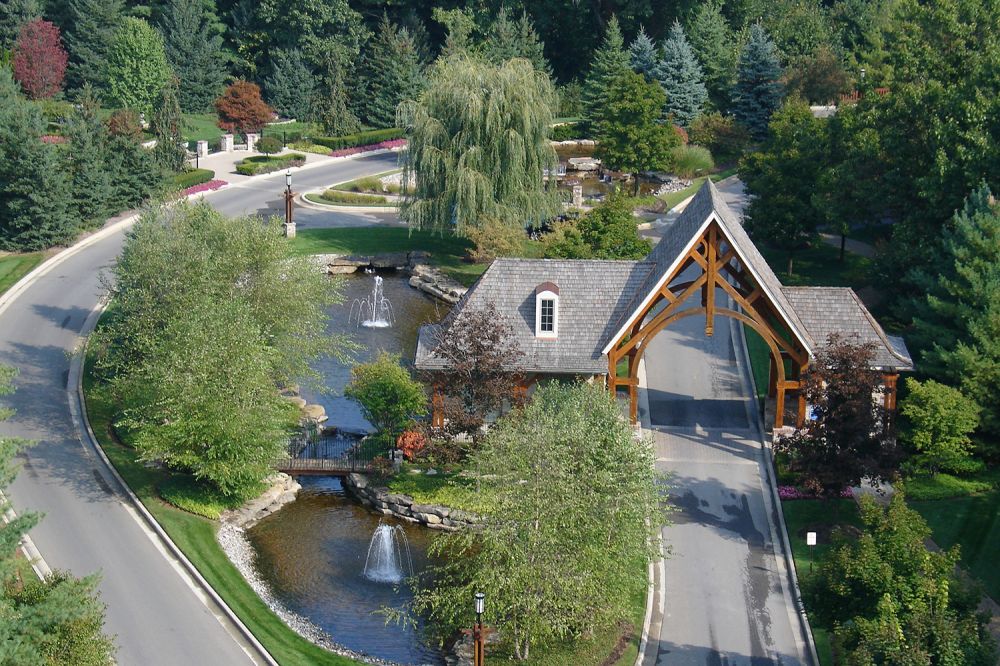 As we were driving North on US 23, we saw a billboard for available building sites at Hidden Lake and decided to exit at Silver Lake Road (Exit 55) and go east. After approx... 1 mile we came upon the entrance to the Hidden Lake community on Stoney Creek Drive. The nautical sign with heavy roping along with the water cascading over the rocks was our welcome to enter. As we traveled a few feet more we were mesmerized with the vibrant colors of nature, the European gatehouse and even more water features.
Following the signs to the Marketing Center; single family homes with European architecture at its finest was all around for our viewing.
When we arrived at the Hidden Lake Marketing Center we were surprised to find a unique building that resembles a dredge. It was interesting to find out that the building is a replica of one of the original dredges that was used to sculpt the beautiful clear blue 110 acre lake.
Upon entering the Marketing Center we were greeted with professional hospitality and were given an informative site tour on the Hidden Lake community and the fun resort lifestyle with all of our questions answered. We were amazed that there are trails and water features throughout the community. The community area with its amphitheater and beach area was so inviting.
Driving throughout the community and checking out the available building sites, made us think "wow this is a place we could call home".